---
Artsci.net is a full service Internet provider in Burbank, California.
We do more than just Host your business on the Internet.
---
Status October, 2016
10/21/2016

All Servers are operational.
---
ATTN: Apple email users:

Please visit: x.co/applefix for E-mail problems with Apple mail

New E-mail server is now active



Advanced e-mail Effective Monday Feb 2, 2015, we are moving everyone over to new e-mail service powered by WorkSpace. We are moving emails NOW (February, 2015). The current system will retire in a few days.
You will visit https://login.secureserver.net/ and Use our full email addresss and your current password to log in.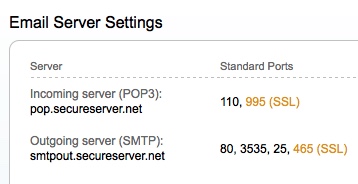 Your old mail will remain available on the old system, for a few days.
Old Mail will NOT be transfered to the new system.
---
http:// http://209.132.246.110:20000
Use your entire email address to log in
ie. myname@artsci.net or myname@mydomain.com
Some users can use: myname.mydomain (replace@ with . and no .com, .net etc)
If you have a problem, Call Bill or Sergio and leave a message at 818-843-4080 or use the contact us form on the left to send us a message.
BE CAREFULL of the E-Mails you receive:
Phishing is the practice of luring unsuspecting Internet users to a fake Web site by using an authentic-looking e-mail in an attempt to steal passwords, account information or other sensitive data.
---
Why choose Artsci as your Internet Company?
Personal Support. When you have a question or need support, Bill or Sergio or Paul will answer the phone or call you right back.
You will have one contact person who KNOWS you and your Web site.
We want you as a customer for life, and treat you like a friend.
We build our own software to make your web site Interactive. Below are examples of our Current Designs:
Calculator - Easy to use Java Calculator Click here
RPN Calculator - Easy to use Java Calculator RPN CALC
 
E-Mail Access - Send and receive your e-mail from ANY Computer Sample
Shopping Cart - Easy to manage database of Products and customersSample
On-line Address Book - Access your personal address from any Computer!!!
Project manager - Track your TO DO Tasks any where any time.
Chat Room - Set up your own Company Chat room.
Message Board - Set up your own Discussion area.

Your own personal Account representative will be available to work with you.
Ask our clients and your see we do more than just Host Your Domain.

Call (818) 843-4080 for more details.
<!IMG width="450" Height="15" SRC="http://www.artsci.net/images2/solutionbar2.gif" BORDER="0" ALT="artsci bar">
Like to have your own Search Engine, like Yahoo?
We can build you one! Look at the one we built for Bead Search
E-Commerce!!! Sell products on-line (SECURE)
We can do it for you right now! Check out


alphaBeauty.com

We Specialize in more than Beauty Stores, We Build Pet Supply sites, Electronics Sites and more.

HTML Development Tools
Colortest - Find the right colors for your Web Page
HTML HELP - Handy reference
On-line Editors - for NT Servers


Fun Pages for our Friends Its fun.
Joke page Caution, some visitors may find a few jokes are for adults only.
Play Draw poker Our Internet Draw poker game.

<!IMG width='100%' wi!dth="450" Height="15" SRC="http://www.artsci.net/images2/solutionbar2.gif" BORDER="0" ALT="artsci bar">
| | |
| --- | --- |
| www.artsci.net | 10/21/2016 10:15:48 PM |
---