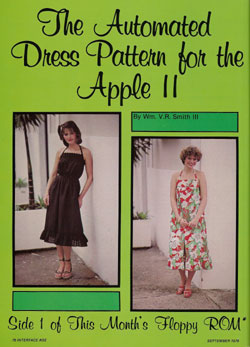 The Automated Dress Pattern was published in the September 1978 issue of Interface Age Magazine. The article and software was written By Wm. V. R. Smith II and Paul Essick.

This Apple II program was written in Apple Basic and delivered in the Magazine using a Floppy ROM. The Floppy was a soft 33-1/3 RECORD, it was designed to be played on a record Player with the Audio being inputted to the Apple's Cassette input port. A complete paper listing was also provided.

The Dress pattern was made available from the McCalls Dress Pattern Company and reprinted by permission.

We took the Dress pattern and layed it on a large sheet of 132 Column printer pager. We printed a Grid pattern on the paper and marked the outline of the pattern. We then found the x and y grid point of the pattern and designed a program to load the x,y data and print it on a a 132 column printer. This reproduced the pattern on the home computer users printer.

For more information about Interface Age visit here

Thanks to Nancy Nehring for the Article here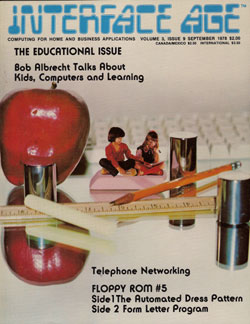 Interface Age evolved out of the club newsletter for the Southern California Computer Society: SCCS Interface. The magazine catered to a fairly technical readership and offered product reviews as well as programming information and coverage of more technical topics.